1-Forty-1 Speed Cycles provides the following Harley Davidson® Peformance Packages: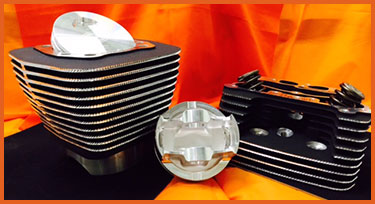 Economy – Includes Exhaust, Intake, ECU calibration. A great starter package for anyone looking to obtain a little more performance, sound, and fuel efficiency!
Economy Plus – Includes Economy Package PLUS adding a Cam Chest Upgrade along with Adjustable Pushrods and Lifters. Ideal for that person looking to cure Harley's weakest components while gaining performance!
Outlaw Package – Includes Economy Plus Package while adding a Bolt-On BIG BORE KIT to include cylinders, heads, and throttle body. Ideal for that Harley rider who is looking for some awesome power!
Outlaw Monster Package – Complete Overhaul!!! Includes Outlaw Package PLUS removal of motor, Monster Big Bore, case boring, stroker flywheel installation (if required), and flywheel strengthen (welding, plugging, re-sized rods, installation of new rod bearings). Ideal for that Harley rider who is looking for a tire smoking, wheelie riding bad ass bike!!!
---
Harley Davidson® Peformance Gallery